I'm going to do a little three-part segment on an analogy that I learned a long time ago in a therapist training with Harville Hendrix, the author and creator of Imago Relationship Therapy. It is the analogy of the Turtle and the Hailstorm, and how they get into relationships with each other and relate to each other. Sound interesting? In this segment, we are going to talk about the turtles, and how they feel about being in relationship with their hailstorm counterparts.
Characteristics of Turtles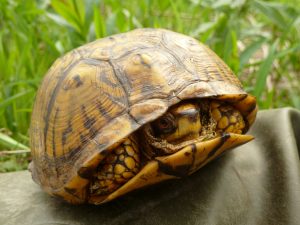 Turtles usually lean more to the counterdependent side of the street. I am not a big fan of labels, but counterdependency is just a word that describes a set of characteristics that often occur together. These characteristics are as follows: oblivious, grandiose, independent, aggressive, and self-focused. Look hard and honestly at how you relate to your partner (knowing that you can relate in opposite ways with other people…but for this illustration, concentrate on how you relate to your significant other). Do you tend to relate to him/her in these ways?
Turtles also have a fear of engulfment, meaning they have heightened anxiety in times of emotional closeness. It sounds like this in relationships, "I don't want to talk about it, can't we just drop it, why are you always bringing things up from the past, and leave me alone." They also tend to exit, either physically or mentally or both, right after a time of connection or closeness such as sex, a deep conversation, or even a fight. They tend to avoid intimacy.
Turtles have this fear of engulfment because of deep shame, because of being told over and over again as a child all the ways that they weren't good enough. When they have the wound of deep shame in their hearts, they internalize a myth, although as kids they believe it is truth, that they could be perfect and that their lovability depends on their perfection. They also believe that they are capable of being in charge of or controlling other people's emotions and making sure they stay calm and don't yell or show reactivity. It is a lie they learn to believe when they're little.
Turtles in Conflict
When a turtle experiences any given situation with a hailstorm, they witness what is, for them, a volatile set of emotions. They experience the emotional range of a hailstorm as way too high, and scary. They have their fight, flight, or freeze "lizard brain" centers triggered a lot of the time. What makes it even worse is that the hailstorm has no clue that they are that scary for the turtle. Why would a hailstorm be afraid of hail? Hailstorms experience their normal range of emotions and are completely unaware that they are freaking their turtle out! This happens even if the emotions have nothing to do with the turtle, and the turtle did absolutely nothing to cause it. It doesn't stop the turtle from having very heightened anxiety, and unknowingly feeling shame for not being able to control the intense emotions of the hailstorm.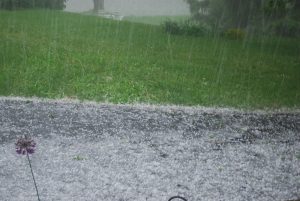 Turtles react to the "hail" in equal proportions to the way they experience the anxiety or reactivity. A hailstorm could come home from work and be upset about the traffic they just drove through. They walk in the door with their emotions turned up, and their turtle partner freaks out. (And the turtle may not even be aware of it, or even be able to verbalize it.) The natural defense mechanism of the turtle is to cinch up into their turtle shell and wait for the storm to pass (flight) or start getting a lot louder (fight), much to the confusion of the hailstorm: "What did I do?" they say, "Why are you backing away from me, what's wrong with you?"
The hailstorm experiences this retreat into the shell, (or perhaps very loudly trying to get them to back off by yelling) as abandonment…their biggest wound. The retreat is just as scary to the hailstorm, even if it is silent, as the hail is to the turtle. The distancing triggers their anxiety the same as the hail triggers the turtle. And now we're dancing.
Next time we are going to discuss what it is like to be a hailstorm in relationship with a turtle. Thanks for reading!
Healing Hearts provides counseling services to the surrounding communities of Indianapolis, Fishers, Carmel, Zionsville, Westfield, Noblesville, and Geist. E-Counseling is available for residents of Indiana. Call or text today to set up your appointment. 317-218-3038
© 2016 Nancy Eisenman, MSW, LSW