I had a client the other day remind me of something that illustrates a great point about being a good friend…particularly being a good friend when your friend is in pain for some reason. How do you comfort those closest to you when they are hurting? That's what we're going to talk about today.
The client was telling me about a time when she was really hurting because her marriage was in trouble, and everyone around her was trying to comfort her by telling her "It'll be OK, you're going to be alright." Some might even add, "you're better off without him." She was talking about how that did not make her feel better at all, but that the best response one of her friends had was when they said, "You know what, that really sucks." Nothing more, just sitting with her and validating the pain of her predicament, no encouragement.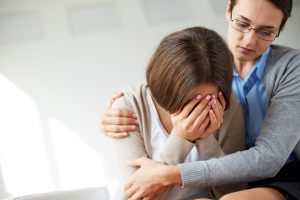 Why did she think that was the best response?  After all, shouldn't we encourage our friends when they are down?  Shouldn't we try to give them hope that they will be alright?  Why isn't that the best thing to say when our friend is hurting?
I don't want to discourage you from never offering your friends encouragement.  Try to think of this as a timing issue instead of a problem with encouragement.  It's a finesse thing.  It's knowing that when your friend is lying on the turf, bleeding on the battlefield…that in that moment it's not going to be OK.  Not today, probably not tomorrow, and maybe not for a good long while.  By offering that encouragement too quickly, it feels like trying to move the person through their grief and pain before they're ready.  It ends up feeling uncompassionate and not understanding.  
I think many times that the reason people go straight for "It's going to be OK" is to make themselves feel better. It looks like you're trying to make the other person feel better, but a) you cannot make someone else feel, and b) if something big has happened, they aren't ready to feel better. They need to be on the turf bleeding for a bit because something huge happened. Their emotions are working properly.
Usually the reason people rush to offer this kind of encouragement is because they are uncomfortable with their friend having such intense emotions. They may also not know what else to say, wish for them to not be feeling how they are because it changes the dynamics of their relationship, or just not realize the depth of their friend's pain.
Connection can come in these difficult moments, usually a very deep connection, when we have the ability to realize that our friend is not ready to be anywhere other than where they are….bleeding on the turf. They are hurting badly, and they should be, because of the severity of what happened…an affair, the death of a loved one, a breakup, job loss. If something like this has happened, it's going to change everything and it will be a major adjustment. It might not be OK for a long time.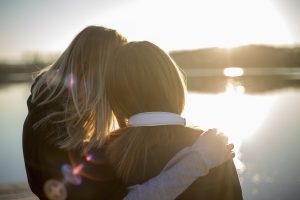 It feels so much better when our friends can understand that and validate it. The best response is to just be with the person and let them know that they are not alone. Ask them what they need the most. Be there for them, sometimes silently. Realize that when something huge happens that your friend is not going to be himself/herself for a lot longer than you might like. Stay the course the best you can, and let them tell you what they need and when they are starting to heal up.
Thank you for reading my work!
Healing Hearts provides counseling services to the surrounding communities of Indianapolis, Fishers, Carmel, Zionsville, Westfield, Noblesville, and Geist. E-Counseling is available for residents of Indiana. Call or text today to set up your appointment. 317-218-3038
© 2016 Nancy Eisenman, MSW, LSW